Film program 2013

The Blue Star
Year of release: 2012
Duration: 67 min
Director: Stefano Cattini
Original Language: Italian
Country of production: Italy
Shooting location: Maremma Grossetana, Tuscany - Italy
Distributor: Doruntina Film; via Farini 17, 41012 Carpi (MO)
doruntinafilm@gmail.com

Description
BLUE STAR. A non-fiction tale about love
Ilario, a retired engineer who lived a busy life in Northern Italy, is pushed by his wife Irma to move to an isolate farm in Maremma, a remote part of Tuscany. Here he discovers her ambitious plan to build a compound where they would live with their fifteen hens and seven horses. Ilario, despite getting older, accepts the challenge in what it will become a never ending endeavor.
Director info
Stefano Cattini
, born in 1966 in Italy, lives and works as a filmmaker in Parma. After some years spent in a reportage studio as photographer assistant, he started to study audiovisual language. He shot his first short documentary in 2004 and received international attention with 'Ivan and Loriana', short film that was the basis of 'DeafKidsLand', his first feature. In 2010 he received the David di Donatello Award nomination for best Italian documentary and was invited to join the European Film Academy.
AFTER THE SILENCE what remains unsaid does not exist?
Year of release: 2012
Duration: 96 min
Director: Vanina Vignal
Original Language: Romanian, French, English
Country of production: France, Romania
Shooting location: Romania
Distributor:

NOVEMBREproductions
Vanina Vignal
6 bvd Henri IV
75004 Paris
France


novembreproductions@live.fr
vvignal@free.fr

www.apreslesilence-lefilm.com
Description
Twenty years ago, the filmmaker struck up a friendship with Ioana in Romania. She returns to ask her about family silences. Together, they analyse a powerful and despotic mechanism: the perpetuation of denial.
AFTER THE SILENCE deals with how the effects of dictatorship are still extremely vivid, even after the fall of dictatorship. It is a film about the abuses of the state, about fear, how silence is passed on from one generation to the next. A film about the space which, despite all that is known, is left to ghosts that make it impossible to live fully in the present. Three generations walled in silence. The legacy of denial, as nothing has been put back in its place and nothing has been said. Killing the dictator is not enough to kill the dictatorship.

Director info
Vanina Vignal was born in France. She trained as an actress at the Jacques Lecoq International School of Theater and Movement, and the National Theatre Conservatory of Romania. She has worked extensively in theatre, which has given her a subtle perception of drama embedded in people's everyday lives. She then trained as an assistant editor and assistant director, before turning to her own projects. Among other things, she speaks fluent Romanian, which gives her direct access to the people she has chosen to film.
Filmography
STELLA ("Prix du Patrimoine" at the Cinéma du Réel - 2007) was Vanina Vignal's first film as a director NOVEMBREproductions - http://www.stellalefilm.com
AFTER THE SILENCE 2012
Alto do Minho
Year of release: 2012
Duration: 49 min
Director: Miguel Filgueiras
Original Language: Portuguese
Country of production: Portugal
Shooting location: Upper Minho region – North of Portugal
Distributor:

Miguel Filgueiras


altodominho@gmail.com



Description
"Alto do Minho" (Heights of Minho) is more than a documentary, it's an impression. It sets off from the lowlands to the high season, to show different shades. The before and after, which are, after all, the same immutable Atlantic cycles of the mountainous landscape. And the upper lands. Where the profane is mistaken for faith, such as the past with present times. "Alto do Minho" is more than a movie, it's a moving portrait. Glimpses that may bear the epic background of Gance, but that are an ethnographic pop observation, which rises up to the dormant feeling. It freezes up the anonymous and landscapes of popular festivals, geographies in shots with an impressionist editing, impregnated with an underlying randomness.
Director info
Miguel Filgueiras was born in 1980 in Viana do Castelo, Portugal.
He has a degree in Fine Arts from ESTAGD CR (Superior School for Arts and Design – Caldas da Rainha, Portugal) in 2004. He likes to live in fraternity and loves the error.
He is the director of several non profit culture related associations. As a media artist he worked in collective and individual projects developed in the field of video art, video installation, performance, video-jamming, experimental video, motion graphics, animation of cultural and social events and short commercial documentaries. With this widespread range of disciplines, the accumulated knowledge resulted in his first author film, debuted in January 2012, called the Alto Minho, a
documentary portrait about identity, spectacle and ethnography of the Alto Minho region. A project which he started in 2008.
Filmography
- Alto do Minho, Portugal, 2012

An Awesome Film
Description
In a country troubled by bad politics, corruption, poverty and deforestations, Alin - a hero like character - creates a country of his own. A "country within a country", governed by good sense, run by volunteers, using education, culture and involvement to make the world a better place. This documentary, a "cultural volunteering act" in its own right, follows the volunteers of Tasuleasa Social for almost a year, in their attempt to change mentalities and... future.

Director info
Andrei Dascalescu (born February 8th, 1984 in Piatra Neamt, Romania) started as a radio DJ in his hometown during his teenage years. He then moved to Bucharest to study Sound and Editing at the Film University. At the same time he worked as a freelance editor and sound engineer for BBC Romania and on many films, including Francis Ford Coppola's Youth Without Youth, as the assistant of the legendary editor Walter Murch. He produced and directed the awarded short feature Fly, then
made his documentary debut with Constantin and Elena. In 2012, he volunteered for Tasuleasa Social NGO, making a new documentary, Un film fain [An Awesome Film]
Filmography (only as a director)
FLY
2 min, short feature, 2007, HD
Constantin and Elena
102 min, documentary, 2008, HD, Spanish-Romanian coproduction
Gyuri
8 min, short documentary, 2012, HD, produced by Amnesty International
An Awesome Film
45 min, documentary, 2012, HD
Ana Botol in West Timor: Life in the City and Village
Year of release: 2012
Duration: 43 min
Director: YOSHINARI MORITA
Original Language: Indonesian, Dawan, Japan
Country of production: Japan
Shooting location: Indonesia
Distributor:

Yoshinari Morita Maison Ashiya 401, 8-12 Higashi Ashisya Machi, Ashiya City, Hyogo Ken. Post code: 659-0095 JAPAN
Description
Kupang (pop. 300000) is the largest city of West Timor island, Indonesia. Atoni Meto, who occupy about the half of the island's population, mainly reside in underdeveloped hilly rural villages east of the city. Since they hardly enjoyed educational opportunities during the Dutch administration, today they often engage in low-wage, low-skilled labor in Kupang's urban areas. In Kupang, there a group of men called "Ana Botol" (Bottle kids). Every morning, Ana Botol push their cart off to the various parts of the city, and spend an entire day in collecting waste materials such as used bottles, iron scraps and cardboards, which they later exchange for cash.
While Ana Botol bring the large part of their income back to the village, by the time they return to the city, they usually have spent all of their money. Consequently, without any improvements in their economic and social status, they reassume the same job as garbage collectors. Some Atoni Meto have repeated this cycle for nearly thirty years. How do they use their money? In this project, I hope to reconsider the notion of poverty and its general understanding through my observation about the way these men earn and spend money.

Director info
YOSHINARI MORITA. Anthropologist. Born in 1976 in Nara, Japan.
Adjunct instructor (Setsunan University).
Ph.D. in Human Sciences, Osaka University. March, 2010
Filmography
"Ana Botol in West Timor: Life in the City and Village"
2012, 43 min

As Long as You Want
Description
Anne likes looking at old photographs. Stories about people and places come to her mind. By listening to Anne history comes alive. In "As long as you want" we meet Anne in Longyearbyen on the arctic archipelago Svalbard. The modern "family society" started out as a company town connected to the coal mining industry that is still important. Anne is 80 years and one of the few retired persons living in this society. Most of the inhabitants stay there for a relatively short period in their working lives. In the summer Anne leaves Svalbard. She visits her childhood place in Norway where her son's family is living. Next time, she might have left Svalbard forever. Retirement homes don't exist there.
Director info
Cecilie Denkinger (31) comes originally from Switzerland where she got her Bachelor of Arts (Cultural Anthropology and Scandinavian Studies) at the University of Basel in 2009. In 2010 she started her Master studies in Visual Cultural Studies at the University of Tromsø, Norway and graduated with the film "As long as you want" in 2012. She has a background as a teacher of Art and Design (HGK in Basel, Switzerland)
Filmography
* Geschwisterorte, 12' (Bachelor Thesis, University of Basel, 2008)
* Les Versannes – Aus einer Rebe warden zwei, 16' (Film for museum mvvv, 2010)
* Getting Hay – A farmers way out of crisis, 16' (Student film, VCS at UiT, 2010)
* As long as you want, 38' (Master's Thesis, VCS at UiT, 2012)
Carmen
Description
Carmen is a short anthropological film that talks about the "Santiritu" ritual, an ancient popular medicinal technique that is still alive in some parts of Bizkaia. The protagonist of the film is Carmen, a woman from Gamiz that still uses this magic ritual to cure sprains and strains.
A black sock, white thread, a needle, a thimble and a plea: 'Santitum zaina urtu, zaina bere lekuen sartu', in a mixture of Latin and Basque. This is the full extent of Carmen's treatment for the healing of sprains. The mantra has to be repeated three times, on three different days. Healing rituals live on in the Basque Country, a place where magical practices have been transmitted from woman to woman for generations. For the time being, Carmen has no successor.
Director info
Olatz González Abrisketa (Bilbao, 1973) received her B.A in Anthropology from the University of Deusto in 1997 and her PhD from the University of the Basque Country in 2004. She went on to become a lecturer in Social and Cultural Anthropology at that university.
Her research has been published in the book "Pelota Vasca: un ritual, una estética" (Muelle de Uribitarte Editores, Bilbao, 2005), translated in English in 2012 (Center for Basque Studies. University of Nevada).
Since then, she has been interested in Visual Anthropology, producing her first documentary in 2007: "Jørgen Leth on Haiti" (52'), which was screened in NAFA2009, amongst other festivals. At present she is producing her second long documentary: "Pelota II", which is due to be completed at the end of 2013.
CHAR… the No-Man's Island
Description
Logline: You can fix a border but not the river!
Young Rubel wants to go to school in India but reality forces him to smuggle stuff to Bangladesh, everyday, crossing river Ganga, the international border between India and Bangladesh. The same river eroded his home. Now he lives in CHAR, an island formed within the river, controlled by border army.

Director info
After graduating from the Presidency College, Kolkata, Sourav Sarangi joined the Film and Television Institute of India, Pune specializing in editing.
His debut film 'TUSUKATHA' received accolades from many leading international film festivals. Since then he has been editing, writing, directing and producing in both fiction and nonfiction genres. He is also popular among student communities in various film schools as an articulate teacher.
Currently he is involved in international co-productions as an independent producer and director. His recent award winning work is an international co-production documentary titled 'BILAL'. The film is based on observations about a three-years-old kid growing up with blind parents in Kolkata. BILAL traveled over fifty international festivals winning seventeen top awards.
He worked as the chief editor in an Indo-Italian co-production in Rome and Naples. Sourav has also extensively worked in private television channels in India as chief programming director. He supported and executed a number of productions on popular entertainment as well as social issue films which are still considered important works in regional television industry.
Sourav has also served as jury in international film festivals.
Common Ground
Year of release: 2012
Duration: 84 min
Director: Anne Schiltz, Grégoire Charlotte
Original Language: Romanian
Country of production: Belgium
Shooting location: Romania
Distributor:

Thierry Detaile, CBA Sales


CBA, Maisond es Francité; 19F, avenue des Arts, 1000 Bruxelles; Belgium ventes-cbawip-sales@skynet.be
Description
Bucharest. A block of flats and its inhabitants, snapshots of a life lived cheek by jowl, intimate moments shared with us. Twenty years after the fall of the Ceaucescu regime, in the midst of a deep economic crisis, the people we meet in this film overflow with an unquenchable lust for life and reveal their personal, moving and often funny views on their lives, their city and their country. They are neighbours organizing themselves to pay the communal costs, they are citizens whose shared experiences are the blocks that build a European story.

Director info
Anne Schiltz Born in Luxembourg in 1975, Anne Schiltz studied anthropology and cognitive sciences. From 2005 to 2008 she is working as a cultural project coordinator (Luxembourg-Sibiu, European Capitals of Culture 2007); in 2010 she is curating an exhibition at the Casino Luxembourg-Forum d'Art contemporain. After her Phd in anthropology and working many years in Romania, she started directing.
Filmography
* 2007 - STAM, nous restons là - coréalisation avec Charlotte Grégoire, Samsa Film, 54'
* 2011 - Common ground - coréalisation avec Charlotte Grégoire, Eklektik Productions & Samsa Film, 82'
* 2012 - Orangerie 1 - documentaire en coréalisation avec Benoît Majerus, Samsa Film, 54'
Charlotte Grégoire was born in Belgium in January 1975. She studied music, dance, social anthropology, visual anthropology and documentary filmmaking. She graduated in Anthropology from the ULB, Brussels, and obtained a postgraduate degree in Visual Anthropology from the University of Manchester, UK. She is now a filmmaker, having worked for several years for Odyssee Productions (Brussels) and as the administrator of the Atelier Jeunes Cinéastes (2003-2007).

Copts
Description
Farid is thirty-three years old. After years of living on the edge, he left his job at McDonald's where he worked and retired to the desert. In the arid valley of Ryan, far away from Cairo, the revolution, the world, he drives his tractor and prays.

Director info
ÁLVARO SAU. Donostia-San Sebastián, 1981. Bachelor of Fine Arts. As a founding member of different groups and as a freelance artist he has done performances, audiovisual installations and single-channel pieces. Through an intense nomadic life in Europe, Colombia, Brazil, India, Nepal and Egypt, he has developed a personal language around the reflection of the social representation of individuals and communities.
Decision
Description
The Film is Pushpa's journey as she tries to make sense of her own life and that of her women friends. Set in a lower middle class colony in Ghaziabad, Uttar Pradesh, it explores the lives of women, who are young, educated and bright, but feel bound and helpless when it comes to taking any major decision regarding their lives. Following their lives over three years, the Film documents the changes in their lives and tries to capture the essence of their existence, sometimes through conversations and sometimes by simply observing their seemingly innocuous everyday routines.
Director info
Pushpa is currently pursuing her MA in Philosophy, but her heart has been in filmmaking ever since she attended a filmmaking workshop. That first brush with cinema drew her in and she continues to love the feeling of exploring the world through the camera. She was one of the filmmakers of the short workshop documentary Kyon that went on to be shown in many film festivals and workshops. She has assisted Anupama Srinivasan on some of her projects including the PSBT documentary I Wonder. This is her debut film.

Anupama is a freelance filmmaker based in Delhi. She did her BA in Applied Mathematics from Harvard University where she also got an opportunity to take courses in Still Photography and Non-Fiction Filmmaking. She went on to completing the three year course in Film Direction at the Film and Television Institute of India, Pune, in 2001. She has been making documentaries and short films for over a decade, often shooting and editing her own films, which have been screened at various national and international film festivals. Her interest in working with children led her to conduct filmmaking workshops with children and young people.
Dzukija's Bull
Year of release: 2012
Duration: 54 min
Director: Linas Mikuta
Original Language: Lithuanian
Country of production: Lithuania
Shooting location: Lithuania
Distributor:

Jurga Gluskiniené Naugarduko 34, LT-03228, Vilnius, Lithuania jurga@monoklis.lt



Description
It is an another world. A world far away from city noise and so called "modern culture". A world that was created by God, not by human beings. Jonas, called by the villagers the "Bull", because of his unbelievable strength, lives in such a world. He walks through his life unrushed and certain, reminding a today's man of his fragility. He reveals a world where life and death, joy and sadness, power and weakness coexist together inseparably, a world which fills up with apocalyptic visions and the "end of the world" feeling.
Director info
Linas Mikuta was born in 1980, Klaipeda, Lithuania. He graduated as a Theatre Director at the Lithuanian Academy of Music and Theatre in 2003. 2005-2008 he worked as assistant and associate director at Lithuanian Opera and ballet theatre, Tel Aviv Opera, Frankfurt Opera. Also he made independent project as director with Vilnius Philharmonia. In 2009 Linas Mikuta started to work with the cinema projects. In the same year he created a screenplay "Blindness" (original title "Nieko Nematau") for the scenario contest, organized by "SKALVIJA" cinema centre in Vilnius. This screenplay was awarded as the best scenario
of all the participants and took the first place. IN 2010 Linas Mikuta directed short film "Failed scenario" which was showed in many festivals in Lithuania and abroad.
Filmography
* Dzukija's Bull, 57 min, documentary, 2012 Lithuania
* Failed scenario, 8:26 min, fiction, 2010 Lithuania
Espui
Description
Until the arrival of bulldozers and cranes, life was peacefully going by in Espui. A residential area with ski slopes and golf course was going to be built. The inhabitats were going to live the explosion of the housing bubble of Spain in first person. The documentary is the result of 12 years recording.
Director info
ANNA SOLDEVILLA (Lleida, Spain, 12/12/1972) She has a degree in Journalism at the University of Pompeu Fabra in Barcelona (1999), where she also attended many seminars on creative documentaries. She began working as an editor and writer for a number of television programmes (TV3, Cuatro, BTV, Canal Natura). In 2000 she co-directed her first short film, Balanç de Praga. A year later she went to Mexico to make another short film "La Caravana del color de la tierra". "La pachamama es nuestra", which won several prizes in Spain (Docúpolis, Documanía of Canal Plus, Mutxamel) was made in 2005. At the moment she is working as a freelancer for several TV channels.
Europaland: A Journey into Popular Cameroonian Imagination
Year of release: 2011
Duration: 30 min
Director: Balz Andrea Alter
Original Language: French, English, Ewondo
Country of production: Cameroon, Switzerland
Shooting location: Cameroon
Distributor:

Balz Andrea Alter


balzandrea@bluewin.ch



Description
Europaland broaches the issue of the image of Europe of young Cameroonians. Among them Europe is both Heaven on Earth and the derivation of the African misery. The film follows the upcoming Cameroonian Reggae artist Ottou Ottou André Rodrigue taking the viewer on a trip through the social imagery of Europe as a 'whiteman's kontri' (white man's country).
Director info
Balz Andrea Alter (1980) works and lives in Zürich. He enjoyed a classic Italian training in art at the Liceo Artistico di Zurigo and was formed by the Universities of Basel and Zurich where he specialized in Visual Anthropology, Economics and Anthropology of Religion. He is also a co-covenor of the Commission for Audio-Visual Media of the Swiss Ethnological Society. Since 2000 he works as an independent author. He produced several plays, including international productions with Rodrigue Ottou, Noel Dernesch and Lukas Bärfuss. Europaland is his first short documentary realized as an integral part of his master's thesis. Currently he is working on a Visual Ethnography under supervision of Till Föster and Peter I. Crawford.
E-Wasteland
Description
Have you ever wondered what happens to your electronics at the end of their life? Almost 50 million tonnes of e-waste (electronic waste) are generated worldwide every year. A large volume of second-hand and condemned electronic goods arrive in developing countries from the "developed" world, with a significant quantity arriving as e-waste, exported illegally as "second hand goods". Without dialogue or narration, this film presents a visual portrait of unregulated e-waste recycling in Ghana, West Africa, where electronics are not seen for what they once were, but rather for what they have become.

Director info
David is an award-winning documentary filmmaker, musician, part-time philosopher and full-time incessant thinker. He entered the world of documentary filmmaking through a love of travel and exploring different cultures, having traveled extensively throughout Australasia, Europe, the Middle East, South America and Africa. Generally working alone, self-producing and self-funding his projects, David is particularly interested in exploring cultural, humanitarian and social justice issues. David's first film PNG Style was awarded "Best Documentary" at the Portobello Film Festival 2010 in London, United Kingdom and has been broadcast on television in Australia and Papua New Guinea. This film follows David on a three-month solo journey around Papua New Guinea - armed only with a backpack, camcorder and travelling guitar. David returned to Papua New Guinea again in 2011, to produce Bikpela Bagarap (Big Damage), a film that explores illegal logging in PNG, and the impact this is having on local indigenous communities and the environment. This film is currently screening at numerous festivals around the world, recently winning the "Audience Choice Award" at the Kuala Lumpur Eco Film Festival 2012 in Malaysia, and "Special Mention" at the Village Doc Festival 2012 in Italy. Bikpela Bagarap (Big Damage) has been broadcast on television in Australia and Papua New Guinea. David spent three months at the start of 2012 in Ghana, West Africa, shooting and editing e-wasteland. www.david-fedele.com
Faceless Heroes
Year of release: 2012
Duration: 61 min
Director: Mary Jimenez
Original Language: French, Arabic
Country of production: Belgium
Shooting location: Belgium, Tunisia
Distributor:

Wallonie Image Production


Pôle Image de Liège, Bâtiment T


36, rue de Mulhouse


B-4020 Liège, Belgium



Description
Brussels, Béguinage church: migrants organise a hunger strike to obtain their papers.
One man dies. Tunisia, Choucha camp on the Libyan border, refugees tell of the horrors experienced as they crossed the Sahara, heading north. Liège, in a refugee centre, one man remembers how he crossed the Mediterranean on an inner tube. Three instances in a war for survival.
Director info
After graduating as an architect Mary was more interested in meeting people and telling stories. She then studied film production at the INSAS in Belgium. She taught film production in Cuba, Switzerland and Belgium. Her movies, features and documentaries, have been selected in numerous festivals as Manheim, Figuera da Foz, Montreal, San Sebastian, Toronto, Berlin-forum, Barcelona, Taiwan, Rome, Cinema du Réel. Her first feature Piano Bar won the Prize of Art-house Cinema, France, Up in the Air won the Director's Prize at the Barcelona Film Fest, Loco Lucho, won the special mention at the festival of Taiwan, La Position du Lion couché won Prix Interculturalité at Filmer a tout Prix.
Feeding the Pigs
Description
In some of the diverse cultures of the Pacific, especially in Melanesia, the pig is the most important domesticated animal. It is predominantly used for ceremonial purposes such as in funerals, weddings, and age-set rituals. Several of the films in the long-term Reef Islands Ethnographic Film Project thus show the killing of pigs in conjunction with such events, at times giving a somewhat disturbing impression of human-animal relationships, particularly for audiences used to see meat only wrapped in cellophane at the local supermarket. In this short film a mummy, daddy, and their little son go out to feed their pigs, conveying the impression of an altogether different human-animal relationship, one of tenderness, care, and love, whilst also showing how children learn through awareness of animals, nature and technology.
Director info
Peter I. Crawford (born Newcastle-upon-Tyne, UK, 1955) is a social anthropologist, film-maker and publisher. He has been an active member of the Nordic Anthropological Film Association (NAFA) since the late 1970s. He has written extensively on visual anthropology and ethnographic film-making, and has wide experience in teaching the subject both theoretically and practically. He is currently Professor at the Visual Anthropology Programme at the University of Tromsø, Norway and visiting professor at the visual anthropology programme at the Free University in Berlin. Together with Dr. Jens Pinholt of Aarhus University he has led the Reef Islands Ethnographic Film Project (Solomon Islands) since 1994 and is producing a number of ethnographic films based on material recorded in 1994, 1996, 2000, 2005, and 2010. His publishing company, Intervention Press (www.intervention.dk), has published numerous books on anthropology and visual anthropology. He lives in Aarhus, Denmark.
God Save the Green
Description
In the last few years, everywhere in the world, individuals and small groups of people have started to cultivate vegetables in their own gardens, in their allotments, in their balconies, in their terraces and in neglected places of their cities. They do that, because they want fresh and healthy food, they want to change their way of life, the place where they live and the urban environment.
God save the green tells the stories of this people who are regaining a sense of community through gardening and at the same time are changing their lives and the places they live in.
The stories take place in the peripheries of large and medium-sized cities in the northern and southern hemispheres: Turin, Bologna, Nairobi, Casablanca, Berlin, Teresina.
The film evoke the nature beauty that can exist inside our cities. A poetical narration, based on T.S.Eliot, Karel Capek and R. Borchardt texts, unfold the strong relationship between mankind and the urban nature.
The narration flows into six possible and innovative routes to follow in finding a way to produce healthy and nutritious foods on one's own, perhaps even to sell some of them. The six routes are: the
last garden in one of the most crowded peripheries of Casablanca; hydroponic cultivation in Teresina, Brazil; community gardens in Berlin; growing vegetables inside bags in one of Nairobi's slums; hanging gardens in Berlin, Turin and Bologna; Guerrilla gardening in Berlin.
"God save the green" is a film about the creation of a new possible urban landscape, the third landscape, where green space is not merely a decorative feature but is something that is lived-in, creative.

Director info
Authors, directors, event creators, Michele Mellara and Alessandro Rossi works together in a solid artistic partnership since fifteen years. Attempt with a good dose of eclecticism, in cinema, creative documentary theatre and creating events. Their original artistic career has been recognized globally by audience and critics. They both degreeted at DAMS in Bologna.
Michele Mellara graduated at LIFS (London Film School). They were the founders of DER (Documentarist association of Emilia Romagna). Members of Doc it steering committee (National Association of Italian Documentarist). Are with Francesco Merini and Ilaria Malagutti founders and members of Mammut Film.
Haiti, Land of Hope
Description
This documentary is based on a journalist's personal experience who, after travelling to Haiti in 2004, decides to erase this country from his memory after having witnessed terrible violence. However seven years after this first and terrible foray, and despite having vowed never to return, he goes back to Haiti. The position that the country is in after the 2010 earthquake is tragic. But the quake, which had destroyed many things, may have helped in raising many others.

Director info
A journalist, publicist and photographer from Bilbao, he has travelled throughout a vast number of countries, trying to capture with his camera a small part of the different realities he has experienced. His multidisciplinary work focuses on travel reports, social denunciation, music and advertising. A contributor to different newspapers and magazines, his photographs are often used for publications and exhibitions by NGOs and other organisations connected with solidarity and humanitarian aid.
His images have also illustrated a large number of advertising media, books and music CDs. As a publicist, he has specialised in campaign creation, radio production and the organisation of musical events, festivals and concerts. He has also taken part in projects connected with the world of cinema and television, although his greatest passion is travelling and telling, by means of texts and photographs, about his experiences throughout the five continents.-
Halabja - The Lost Children
Year of release: 2011
Duration: 72 min
Director: Akram Hidou
Original Language: Kurdish
Country of production: Germany, Kurdistan-Iraq
Shooting location: Kurdistan-Iraq
Description
Ali visits the cemetery of Halabja, Kurdish northern Iraq, and remains silent in front of a tombstone with a scratched name upon. It is his own.
Ali returns after 21 years from Iran back to Kurdistan/Iraq to his native city Halabja, looking for his lost family. Five families on the other hand hope him to be their missing child. Among them the family of the primary school teacher and artist Fakhradin who lost through the poison gas attack of Saddam Hussein upon Halabja back in 1988 five children. Two among them are missing in the Iran... Is Ali their missing son?

Director info
Hidou was born in 1973 in Serê Kaniyê in the kurdish region of Syria. After graduating from university in Latakia where he studied health sciences he 1995 followed his family to Germany out of political reasons.
1999 he started his studies of History and Politics at the Hannover University but then
decided to start a career as a digital media designer. Akram Hidou finalized his studies of cinema-direction in 2009 at the Ruhr-Academy of arts. Akram Hidou lives in Berlin, working as an independent film director, cinematographer and producer. HALABJA- the lost children is his first long film.
Hungry Minds
Year of release: 2012
Duration: 87 min
Director: BEATRIX SCHWEHM
Original Language: Bengali, Somali, Swahili, Mongolian, Englisk
Country of production: Germany
Shooting location: Bangladesh, Kenia, Mongolia
Description
A film about the mobile libraries of this world. A Bengali architect builds library boats that can bring books to people even during the monsoon season. A Mongolian author of children's books Jambyn Dashdondog packs two boxes full of books each summer to provide reading material to children in remote areas. A Kenyan librarian Abdullahi Osman leads caravans of camels loaded with boxes of books to the nomadic tribes bordering Somalia. Despite the heat, wind, rain or snow, they still manage their long journeys with their mobile libraries. A film about the love of literature and the respect for knowledge that accepts no boundaries.

Director info
BEATRIX SCHWEHM born 1958 in Allgäu, Germany. Documentary Filmmaker, University lecturer for Film Aesthetic and Film History. Since 2001 she works as Producer, General Manager and Director in the Production Company trifilm GmbH in Bremen, Germany.
Her interests are in the various stories of life that bring out the connections between social and political issues, and challenge accepted attitudes. Avoiding a direct narrative, she works with the layers of life's fragility, expressing the complexities around us. Through 2005, she taught at the HfbK Hamburg (University of Fine Arts) and the Hamburg Universität in the Department of Culture and Media Sciences.
Jeans&Martó
Year of release: 2011
Duration: 52 min
Director: Clio Sozzani, Claudia Palazzi
Original Language: Amharic, Afan Oromo
Country of production: Italy
Shooting location: Ethiopia, Italy
Description
The story of a young Ethiopian pastoralist who escapes his arranged marriage to fulfill a dream. An apparently normal student who is willing to reach a balance between his tribe's costumes and the dream of becoming an educated man. Sometimes apparently normal people hide extraordinary and important stories: unknown but significant lives that carry the inner-strength of a big revolution. Roba comes from a remote pastoralist Ethiopian village. Belonging to the Karrayu clan, this young man grew among the herders and their camels. From the day Roba was born, his path was a matter of tradition.
However, his willingness will conduct him toward very surprising destinations and through a series of amazing events: an escape from an arranged marriage, the hatred within a family, the internal doubts of a young 'fighter', the hope for reconciliation, a terrible drought in the Karrayu lands, the loneliness of the city life, an unexpected journey to Italy, the death of his brother killed in an ethnic conflict, and the coronation of the big dream: achieving the degree. "Jeans and Marto" reveals the complexity of the 'Ethiopia of the new millennium', constricted between modernity and tradition, pastoralist and urban lifestyle, old and new generations who struggle to adapt to such a rapid transformation. Roba's unique and privileged point of view provides a new way of considering a very burning issue of present time, namely how tradition and modernity could possibly work together in building a better future.

Director info
Clio Sozzani
Anthropologist and film maker. Since 2005 she works for development projects in Africa (mainly in Ethiopia and Senegal) and as film director for different international production companies and no profit organizations. Among the others she directed: 'Moto for Peace' (TV series broadcasted on Fox Channel in 2006); for COOPI 'Toward a Better Life. The stories of Mantgebush and Ashenafi' (2008); for DEA 'Development Experience Association' (2009); for the Italian Development Cooperation (Ministry of Foreign Affairs) 'CinemArena in Ethiopia' (2009) and 'CinemArena in Senegal' (2010); for the Region Lazio and Agensport 'Come2Play in Ethiopia' (2010). Together with Claudia Palazzi she co-directed two 26 minute documentaries 'In Benito's Land' and 'Memories from Crespi d'Adda' that were presented in various International film festivals (Lipsing, Rome, Venice). 'Jeans & Martó' is Clio's and Claudia's first feature documentary (winner of the best documentary award in Cinestrat, Spain).
Claudia Palazzi
Sociologist and film maker. She started her career directing with Clio Sozzani two documentaries ('In Benito's Land. Predappio' and 'Memories of Crespi d'Adda') that were selected in international festivals. In 2006 and 2007 she followed the scripwriting of projects for different International production companies and she also worked for cinema production companies, mainly Lucky Red and Janus International. In 2008 she wrote a series of documentaries for a TV series "Erotika Italiana" e "Addiction", broadcasted on Cult 131 (Fox Channels). In the last two years she has been working for Endemol production and realizad TV series broadcasted in main national tv channels such as Italia 1 and Rai 2.
jo joko
Year of release: 2012
Duration: 61 min
Director: Daisuke Bundo
Original Language: Baka
Country of production: Japan
Shooting location: Cameroon
Distributor:

Daisuke Bundo

daisuke.bundo@gmail.com



Description
The lives of hunter-gatherers, or you could say their ways of eating. They hunt what they can from surrounding nature, and then share for eating. In the tropical rainforest in Cameroon, the ethnic group called the Baka continues their traditional culture. In their language, they call food as "jo", and good as "joko" whatever the degree. This is an anthropological action film whose sole purpose is to simply record the mealtimes of people living in the forest.

Director info
Daisuke Bundo. Born 1972 in Osaka, Japan. Associate Professor, Shinshu University. Conducted field research on the Baka in Cameroon since 1996, started to make films since 2002. "Wo a bele" is the debut. It was broadcasted on Communication Satellite TV in Japan 2005 and screened in the international film festival "cinéma du réel" in Paris and Mediating Camere in Moscow 2006. "Jengi" is the second film. It was selected at the 9th Göttingen International Ethnographic Film Festival 2008. "jo joko"is the third film. 40 minutes version was screened at the Yebisu International Festival for Art & Alternative Visions in Tokyo, Japan February 2012.
Looking at Themselves - Babaluda Luda
Year of release: 2012
Duration: 33 min
Director: Mihai Andrei Leaha
Original Language: Romanian
Country of production: Romania
Shooting location: Romania
Distributor:

Mihai Andrei Leaha


tribafilm@gmail.com



Description
The film is an attempt to question the ways in which the visual narrative is constructed when using the feedback method. The feedback provided by the people involved (the young performers but also the elders) in the Babaluda Feast, turned out to be very important in offering an insight to the ways in which the Feast was depicted by the visual ethnographer. By recoding the shared visual ethnography, that was arranged in big groups in a large screening rooms, but also in small groups in private houses, the film will try to experiment the ways in which the visual narrative is constructed by looking at, the looked at. The montage method of the film will use a chronotopic montage technique, in which the time and space unity will be enacted in a visual ethnographic present.
Director info
Mihai Andrei Leaha is PhD. in Philology, at the Babes-Bolyai University from Cluj-Napoca. He studied in several fields of the Humanistic Studies. He has a B.A. in Comparative Literature and English, an M.A. in Multicultural Studies and another M.A. in Theatre and Media Studies Departament of the same Babes-Bolyai University. He is a member of Orma Sodalitas Anthropologica and director of Triba Film, independent documentary production company.
Mihai Andrei Leaha published several studies in the field of Visual Anthropology and Ethnographic Film the main focus being on methodology and visual representation issues. He also shares a deep interest of the field of Ethnology focusing on Calendaristic Ceremonials and also storytelling. He directed several award winning short films and one feature film.
Masi's Law
Description
Masiphumelele or Masi is a township near Cape Town, South Africa, where high crime rates and limited access to the police have necessitated community-based security measures. The film portrays the way of the Bambanani and Street Committee volunteer movements' fight against the crime in Masi.

Director info
Aaro Hazak (b. 1978, Estonia) has attended film-making courses at Baltic Film and Media School (Estonia), EICTV (Cuba) and Barefoot Workshops (South Africa). Adam Jacobi Møller (b. 1977, Denmark) has been involved in NGO and humanitarian work in Afghanistan, Sudan, Nepal and other countries, and he has learned documentary filmmaking with Barefoot Workshops.
Directors' filmographies
Aaro Hazak has directed three short fiction films ("Distinct", Estonia, 2009; "Expirium", Estonia, 2009; "Architect", Estonia, 2009) and two documentaries ("El Burrito", Cuba, 2009; "Masi's Law", South Africa, 2012). "Masi's Law" is the first film by Adam Jacobi Møller, while he is working on his second documentary on South Africa.
Miramen
Year of release: 2011
Duration: 22 min
Director: Khristine Gillard, Marco Rebuttini
Original Language: French
Country of production: Belgium
Shooting location: Camargue island
Distributor:

GSARA

Sandra Demal



Description
Miramen — from Provençal, mirage.
Camargue is an island which demands man who lives there to become one with her.
This world between earth and water is one where the river, the sea and the community of lagoons meet. It is a world of gestures — those of the gardian-centaur, the pond fisherman, the tellinier, the swamp hunter — written within bodies and landscapes.
There wakes the Beast.
Director info
Khristine Gillard
Founding member of LABO, laboratory for research and processing of Super 8mm / 16mm film in Brussels. Working with sound and image, in installations like Le Matin des eaux (16mm loop, sound by AGF) about the metamorphosis of a body, or multiprojections like
Destra o Sinistra (projection-performance super8+16mm with LABO) and Without blinking (triple Super8 projection, with Prairie Calmel).
Director of Des Hommes (documentary film, 16mm, 72', 2008), she's currently working on her next full-length documentary film on a volcanic island in Nicaragua, Cochihza (super 16mm, 70', prod. alter ego films).
Marco Rebuttini
A passionate climber and former youth educator in the Southern Alps, Marco creates a small company skilled in specialized rigging and ropeworks in remoted and out-of-reach areas. He further perfects techniques especially designed for theater and film shootings and works on numerous television reports. Photographer, cameraman and traveller, he shares his view of daily life around the world since 91 : images of an imaginary Patagonia, portraits of honey hunters in Nepal, Latin American volcanoes… He recently created the photo series Le Temps, vegetal argentic disappearances, and is currently working on Les mains sales, a photographic project on the backstage workers of the performing arts scene. Miramen is his first film.
Mood for Nostalgia
Year of release: 2012
Duration: 30 min
Director: Maria Kivirand, Robi Uppin
Original Language: Estonian
Country of production: Estonia
Shooting location: Estonia
Distributor: Maria Kivirand
Black Plastic Media Productions
Baltic Film and Media School
maria@blackplastic.ee

Description
Short documentary "Mood for Nostalgia" is about friendship between neighbors who have known each other for entire life. A cold winter, silence, loneliness and thoughts of nostalgia are surrounding their every day life. Their sincerity opens up a world of unusual friendship in isolated countryside of Estonia.
Director info
Robi Uppin was born 1978 in Tallinn Estonia. When he was ten years old he moved to Sweden. There he found interest in movies, TV-games and electronic music. 2005 he went to Japan Tokyo to study the language and culture. In 2006 he started studies in Baltic Film and Media School as Audiovisual Media student. His graduation project was short fiction film "Wanderer". In 2011 he continued studies in BFM in Documentary and Television masters program. During his studies he has been directing and designing the sound for many short documentaries and fiction films. He is also frequently doing sound design for films and composing electronic music. "Mood for Nostalgia" is his graduation film.
Maria Kivirand was born 1986 in Tallinn Estonia. During high school she started to study music and theatre and from there she got inspiration to study filmmaking. In 2005 she went to Spain to study language and culture. In 2006 she came back to Estonia to study film and media. She graduated Baltic Film and Media School Bachelors degree in Audiovisual Media and now studying Masters in Documentary and Television course. She has been producer, director and editor to different short documentaries and fiction films. "Mood for Nostalgia" is her graduation film.
31-st Haul
Year of release: 2012
Duration: 60 min
Director: Denis Klebleev
Original Language: Russian
Country of production: Russia
Shooting location: Kamchatka peninsula, Russia
Distributor: Denis Klebleev
dklebleev@gmail.com

Description
In 3 months the residents of a faraway Kamchatka village have eaten 102 tones of food and they want some more. Yura and Vitalik, the drivers of an old army-style vehicle, are gonna fetch them more of supplies. But the problem is that their vehicle broke down. Starting as a road movie accompanied with a straight-forward sense of humor of the main protagonists, the film gradually introduces new characters and explores the depth of simple human relationships. The festival story of the film is:
1. ARTDOCFEST, Russia, Moscow, december 2012, best feature film award
2. KUSTENDORF, Serbia, january 2013, new authors programm
3. Cinema Du Reel, France, Paris, march 2013, First Films competition
Director info
Denis Klebleev was born in 1981 in Borisoglebsk, Russia. He graduated at the Moscow University of Civil Air in 2003. After graduating, he worked in airline sales department until 2010. In 2010-2011 Klebleev entered at the first year Marina Razbezhkina Workshop of Documentary Films. The movie 31st Haul is his diploma project.
More Than Ice-Cream Wong Kwong
Year of release: 2011
Duration: 13 min
Director: Riley Leung
Original Language: Cantonese
Country of production: Hong Kong
Shooting location: Hong Kong
Distributor:

Riley Leung


redd.rileyx@gmail.co

Description
Uncle ice-cream, a 90 year-old man, who shares experience and shows his mental toughness to his customers everyday. Presenting a spirit of old Hong Kong, is a role model for youths today.

Director info
Riley Leung. Born in 1990. A Year-4 student in The Open University of Hong Kong. The first fiction short film Remains receieved the Best Script Award in Freshwave 2011 - International Short Film Festival. And More than ice-cream Wong Kwong is the first documentary produced in the 2nd Year Study, Silver Award of 2012 Taipei International Digital Content Award.
Mr Coperthwaite: a life in the Maine Woods
Year of release: 2012
Duration: 83 min
Director: Anna Grimshaw
Original Language: English
Country of production: USA
Shooting location: Maine, USA
Distributor:

Anna Grimshaw
Institute of the Liberal Arts,
Emory University,
Atlanta, GA 30322, USA


agrimsh@emory.edu

Description
In 1960, Bill Coperthwaite bought 300 acres of wilderness in Machiasport, Maine. Influenced by the poetry of Emily Dickinson and by the back to the land movement of Scott and Helen Nearing, Bill Coperthwaite is commited to what he calls " a handmade life" For the last fifty , Bill Coperthwaite has lived and worked in the forest. He is a builder of yurts, and a maker of spoons, bowls and chairs.
Director info
Anna Grimshaw is an anthropologist and filmmaker. She has made a number of documentaries in northern England, including Mr Wade (2003) and her video collaboration with British artist, Elspeth Owen, Material Woman was completed in 2005. She is the author of The Ethnographer's Eye: Ways of Seeing in Modern Anthropology (2001) and, with co-author (with Amanda Ravetz) of Observational Cinema: Anthropology, Film and the Exploration of Social Life (2009).
My Vote
Description
My Vote / Votul Meu is an amusing and intriguing documentary about local elections in a Romanian village. The incumbent Mayor announces his umpteenth candidacy and tries to convince the villagers to vote for him. A fascinating insight into a young democracy, in which manipulation and deception are employed.
Director info
Directors Monica Lăzurean-Gorgan and Andrei Gorgan made together 5 short documentaries broadcasted on RAI 1 television, Italy, for Central Express project.
Director and producer Monica Lăzurean-Gorgan made in 2008 2 feature documentaries about pregnancy and giving birth. She has a bachelor in film directing. Now she is in development with 2 creative documentaries and two feature films directed by Adrian Sitaru.
Director and editor Andrei Gorgan graduated the National Film University, Multimedia module (Film Editing, Sound and Graphic Design). He directed the documentary "Jean Yves", and he is DOP and editor for documentaries as "The Way Home – Romanian Labor Force in Europe", "Subzero – Lapland, wilderness and purity" and for one of the most popular tv production for the Romanian National Television, "Bazar", a travel show.
Narmada
Description
"Dams will be the temples of modern India," claimed Nehru as the countryproclaimed its independence. The construction of one of the largest complex of dams ever conceived will be soon completed on the Narmada river in India. A social struggle is getting organized.
As we cross the Narmada River valley, we encounter inhabitants, beliefs and convictions brought into conflict as this river undergoes major transformations. The river, the film's main character, comes to life through the way it is filmed,and through the images and stories that are developing around it. We strive to reproduce a sensitive vision of its visual settings and its soundscapes, the feeling of suspended time and, in contrast, the breaks and the violence of the current ongoing transformations. Throughout this emotional and personal "journey", which confronts the different visions in this conflict around the Narmada, we also implicitly question the deeper meanings of current transformations in our societies, the myths of the river just like the myths of Progress.

Director info
Manon Ott and Grégory Cohen, born in 1982 and 1983, are both photographers and documentary filmmakers. They work and live in Paris.They teach photography and documentary film at the University, while pursing doctoral studies at the same time (visual research, anthropology/sociology).
In 2008, they published the book Birmanie, rêves sous surveillance [Burma, dream under surveillance], at Autrement Publishing. This photography book, made of life stories and meetings with political opponents, writers and artists from Burma, tells us about resistance acts under dictatorship. Manon also directed the movie "Yu", a black and white documentary about the waiting and the lonely journey of a young Burmese asylum-seeker that just arrived in Paris. Yu has been selected by a dozen International Festivals, including the Cinéma du Réel, Belo Horizonte… They are also co-founders of the association Les yeux dans le monde that organizes in Paris the Festival de documentaires itinErrance (itinErrance Documentary Festival), movie screenings and visual education workshops.
One Year's Reminder
Year of release: 2012
Duration: 75 min
Director: Michele Di Salle, Luca Papaleo
Original Language: Italian
Country of production: Italy
Shooting location: Salina Island, Sissily (Messina), Italy
Distributor:

Michele Di Salle


Vicolo del gallo 7


00186 Rome


Italy



Description
Take an island. Then cut summer out from the four seasons: that's one year's remainder.
"one year's remainder" is a documentary film set in Salina, in the Aeolian archipelago north of Sicily. An island, known mostly in the summer, that reveals itself after the departure of the tourists, during the months in which a thousand people deal with the slow passage of time.
"one year's remainder" has the island as point of view, through the sights and sounds of its places and its inhabitants, witnesses of passage.

Director info
Faralgon is a creative, dynamic group created by Michele Di Salle and Luca Papaleo.
Michele, 1977, has been working for fifteen years in the broadcast television system; by the last eight years is specialized in directing and story editing for some of the major italian reality shows.
Luca, 1971, has been working as an editor for twenty years, specialized in television dramas. The passion for good stories and beautiful images takes them to work together in music videos and serial documentaries for the italian television.
Red Hair and Black Coffee
Description
A Romany village located deep down in the valley, with old shacks and newer concrete ones. A spirit is wandering around… the spirit of Vozarania, the ancestor that still passes things on... from mother to daughter.Four Romany women tell us about their day-to-day life through ancient habits, along with words that travel near borders with different worlds…Stories about red hair and black coffee… About transmitting from generations to others but also about forgetting…

Director info
Milena Bochet was born in Madrid. She studied film-making at INSAS. Today, she works as a director, assistant to the director and also animates many audiovisual courses and trainings for very diverse audiences.
Road Pygmies
Year of release: 2012
Duration: 60 min
Director: Marie Devuyst, Alain Lemaitre
Original Language: Bakola, Ewondo, Ngoumba
Country of production: Belgium
Shooting location: Cameroon
Distributor:

Wallonie Image Prodcution (WIP)


Cecile Hiernaux


Pôle Image de Liège – Bat. T

Rue de Mulhouse, 36

B-4020 Liège

tel +32 4 340 10 40

ventes-cbawip-sales@skynet.be


www.wip.be


www.ventes-cbawip-sales.be



Description
While most of the Pygmies in Cameroon still live in the bush, a few families dwell in a village by a tarmac road. Here daily life alternates between maintaining old traditions and adapting to Bantu society. In the film we meet the «Road Pygmies», a small community at a crossroads in its history.
Director info
Marie Devuyst was born in 1982 in Brussels. After a first licence in a sociocultural communication school, she decided to continue her studies in Sint-lukas, in the documentary section, where she makes her master film 'As long as the mine whistle'. Then she directs some short films for social associations about eldness, immigration, adoption… In 2011, she came to Cameroon for a few month and co-direct with Alain Lemaitre the documentary film "Road Pygmies".
Alain Lemaitre was born in 1980 in La Louvière, Belgium. He made history and philosophy studies in ULB, Brussels, then he teatched in high schools during 6 years. Today he's working as teatcher trainer. « Road Pygmies » is his first film as director and sound engeener/recordist.
Sea Boundary
Description
An incisive portrait of life aboard a Sicilian fishing vessel, the film depicts the daily struggle of fishermen to earn a living in a harsh physical environment that brings out the social and economic
tensions of modern society.
Manning the Priamo are Cola, the captain, Ahmed, the Tunisian first mate, two Italian engineers, and two Tunisian seamen. At sea for three weeks at a time, they fish off the coasts of Libya and Tunisia, sometimes outside the fishing limits and risking interception by the authorities.
An intimate account of remoteness: after a few days on shore, the men leave their homes and families for a month. Night and day the nets are cast every four hours; the work is demanding and poorly paid; the quarters are cramped and uncomfortable; conflicts and prejudices surface amidst the roar of the engines and the sea. Beyond the horizon lies Africa, where immigrants embark for Europe, leaving their homes and families behind in the hope of finding a better life.
Director info
ROSSELLA SCHILLACI gained a MA in visual anthropology and direction of documentaries at the
University of Manchester (UK). With AZUL (www.azulfilm.com) she directed documentaries selected and awarded in several film festivals and broadcasted in TVs, such Raisat and Al Jazeera.
Her last documentary, Other Europe, gained several prizes in Wien, London and in Al Jazeera Film Festival.
Shashupi's life, self-described
Description
All his life Forest Nenets Shashupi worked for his country indefatigably. He worked as a farm labourer with reindeer and when his wife died he had to bring up his eight children…
Shashupi lives on the boarders of two richest lands: Khanti-Mansy Region that extract 60% of Russian oil, and Yamal-Nenets Region that extract 90% of Russian gas. Russia needs oil and gas but not Shashupi. He needs his reindeer and lands that graze. But does Russia need his reindeer? How will country treat one of its sons?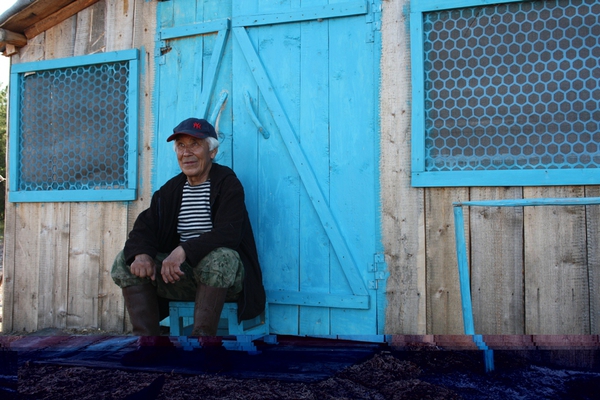 Director info
Olga Kornienko has finished the Department of Journalism of the Kazan' State University and the Moscow Institute of Rising Qualification of Workers of Television and Broadcasting. More than ten years she worked in the television company "SurgutInformTV" (Surgut, Khanty-Mansi Autonomous Okrug – Ugra) as an editor of theme programs. She had mainly covered life of the native population of Ugra. Since 2003 Olga Kornienko is a head of the Nonfiction Film Studio which works with three directions: ethnodocumentary films, educational and historical documentaries. She is the author of two serials and more than twenty films. Olga Kornienko is a member of the International Academy of Television and Radio. Since 2001 she has been making her films and working as a camera operator. Since September 2008 she is an associate professor, the lecturer of language and literature department (chief – journalism) in Surgut State Pedagogical University.
Singing Lent in Rogotin
Year of release: 2012¸
Duration: 30 min
Director: Ljiljana Mandić
Original Language: Croatian (local dialect)
Country of production: Croatia
Shooting location: Rogotin, Neretva valey, near Metkovic, south Dalmatia
Distributor:

Branka Prazic, HRT, International Affairs Dpt.

HTV, Odjel medjuranodnih poslova

Prisavlje 3

10000 ZAGREB

Croatia

Branka.Prazic@hrt.hr



Description
Lent is the period of forty days during which the Catholics prepare for the upcoming Easter. This is the period of sacrifice, when people abandon pleasure and entertainment and a time of fasting. In the village of Rogotin, in the valley of Neretva, the times are changing, as they usually do. The older villagers still remembers stricter rules of conduct during Lent, as well as some traditional prayers. Some were even fasting on bread and water on specific days. Interestingly enough, a coot, a type of marsh bird, has never been considered as meat and could be eaten even during Lent, as a type of fasting. The villagers of Rogotin abide to some of those rules, and some they have abandoned. But what hasn't changed is traditional singing of Rogotin church male singers, who sing so well that they are frequently called to sing on funerals in a wider region around Rogotin. The songs they sing and the way they do it is a tradition which is still alive and very dear and important to the villagers of Rogotin.
Director info
Ljiljana Mandić was born in the town of Bjelovar in 1962. She graduated from the Faculty of Humanities and Social Sciences, University of Zagreb, in 1985. Since 1986, she has been employed at Croatian Radio Television, which was then Zagreb Television, as the assistant director in Educational and
Documentary Division. Since 1992 she has been working as a director on travel television series "Lijepa naša". During the last twenty years, she has directed around 120 films. Many of them received numerous awards and recognitions.
She has engaged in several authorial projects since 1995 and has successfully participated on many international film festivals.
Skolliales
Description
Wild eider ducks come back year after year to the same nesting grounds, areas where they know they are safe from predators. In Dyrafjordur fjord in north-west Iceland, a group of gentlemen dedicate more than two months out of the year taking care to protect these ducks. In return they get to keep the valuable eiderdown that the ducks provide for their nests.
The duck's main predator is the arctic fox, Iceland's only native land mammal. The foxes come down from the hills and into the fields during the bright arctic nights. The eider farmers are ready to fight the sly fox with old jeeps and guns, home-made poetry and cakes.
Skolliales is a film about man's relationship with nature. It's the story of eider farmers and neighbors, Valdimar and Zófonías, and their friends. Between the men, the eider ducks and the arctic fox there is a unique relationship that is based on understanding, respect and friendship.
Director info
Haukur is born and raised in Isafjordur, Iceland. He has a BA in anthropology from the University of Iceland and MA in Visual Cultural Studies from the University of Tromsø, Norway. Skolliales is Haukur's first film.
Step up to the plate
Description
In 2009, the three-Michelin-stars French chef Michel Bras decides to hand his restaurant over to his son Sebastien, who has been working with him for 15 years. ENTRE LES BRAS tells the story of these extraordinary dishes prepared by a father and a son, in the hilly landscape of Aubrac region. We follow this gastronomic transmission, and enter intimately in their family ties.
Between Jonathan Nossiter's MONDOVINO and Raymond Depardon's LA VIE MODERNE, this documentary draws a moving and joyful portrait of this outstanding family devoted to the Haute Cuisine for three generations...
Director info
Paul Lacoste. Professor at the School of Audiovisual Studies (ESAV) - University Toulouse Le Mirail. Since sept. 2007 Head of the department of cinematographic studies (Master level)
Stori Tumbuna: Ancestors' Tales
Description
Log line: "There are still places unknown"
"This is a story of the Lak people. It's also a story of how I came to know the people of the Lak region, how I learnt their traditions, became a community member, and how my story became forever woven into their own… I was also to become enmeshed in events that resulted in bloodshed, death and threatened the existence of the entire community. What's more, I was held responsible…"
In 2001 Paul Wolffram, a cultural researcher, travelled to one of the most isolated and unique corners of the earth. He eventually spent over two years living and working among the Lak people in the rainforest of Papua New Guinea. As his relationships with the people grew he began to glimpse a hidden reality, a dark and menacing history that loomed over his host community. Over time the sense that something is amiss grows. As his curiosity deepens Paul brings to light dark secrets that set in motion a compelling and deadly set of events.
Director info
Paul lives in Wellington with his wife and two children. Over the past ten years working with Melanesian people in Papua New Guinea Paul has contracted malaria six times, been bitten by a snake, cashed by several wild pigs, and collected a number of skin funguses.
Paul has worked with a number of Pacific communities creating documentaries on subjects and stories that are important to the people he works with. He has worked with the Banaban people, a displaced Micronesian culture now relocated to the Fijian Islands, the Tokelauan community, on a film about traditional women's arts, and with the Deaf community in New Zealand. Paul's films have been screened internationally and his ethnographic film work in the Pacific is currently playing in several international film festivals.
Paul received his PhD in music from Victoria University of Wellington where he now teaches in the Film Programme. His production company focuses on producing disability resources. Paul has directed a number of films and resources on New Zealand Sign Language including "Sign with your Baby", "Sign of the Times: The Story of New Zealand's Visual Language" and the "United Nations Convention on the Right of Disabled People translated into New Zealand Sign Language". Paul's wife Victoria Manning is profoundly Deaf and a leader in the New Zealand Deaf community.
Taxi
Description
Ferlin Hobson, the only taxi driver of "90 mile beach", a deserted beach 100 kilometres in far north of New Zealand. Lubing Fei, one of the many taxi drivers in Shenzhen, the fastest growing megalopolis of China. Two very different worlds. Two taxi drivers, many things in common.

Director info
Asier Urbieta (1979) is working directing advertisements and documentaries. His short films Larzabal (2003), Arco Iris (2005), Musika (2007), Pim Pam Pum (2008), Todo es Maybe (2010) and Moldatu (2011) have been awarded prizes around the world.
Tell Me When…
Description
Melilla is a small spanish exclave on the North-African coast. A piece of Europe in Africa, a remnant of colonialism. A huge 12 km long fence here seperates rich Europe from the global South in order to keep away migrants seeking their fortune in Europe. Our films tells the story of three migrants who have made it across the fence. One foot on European soil, they wait for their papers or their final deportation. Opara is from Nigeria. For two years, he lives in the CETI detention camp at the outskirts of the city. He doesn´t want to indemnify with his situation and fights for the respect of the spanish population. He is an active member of the city´s small pentecostal church. Shahbaz from Pakistan lives in the camp for three years. Through his mobile phone, he organises a complex network of relationships to his family at home and to friends who already have reached Europe. The pictures and Hindi-Pop-Songs he has saved on his phone provide him an emotional connection to home. Ilham is from Morocco. Like many other Moroccans, she lives illegally in the city. For years, she fights for a legal status, lives on the street or stays occasionally with friends and does small jobs to survive.

Director info
Steffen Köhn Born on the 1st of December1980 in Kirchheimbolanden. Studies of social anthropology and film studies in Mainz and Berlin. Fieldwork and thesis on the West-african Videofilm-Industry. Since 2006 study of film directing at German Film- and Television Academy in Berlin.
The Gorgeous of the Evening
Year of release: 2012
Duration: 26 min
Director: Davor Borić
Original Language: Croatian
Country of production: Croatia
Shooting location: Donja Bebrina, Ruščica
Distributor:

HRT (Croatian Television)

Prisavlje 3

10000 ZAGREB

Croatia

Ljiljana.sismanovic@hrt.hr



Description
The film features carnival traditions in the villages Donja Bebrina and Ruščica in the heart of Slavonia. Although basically very conventional, people are still finding various ways to adapt them to modern times.
Director info
Davor Borić was born in Zagreb in 1966. On Croatian television has been employed since 1996. as realizer and director. He is the author of a series of documentary reportage and several documentaries. The documentary "Following Memories" was honored with Golden Oil at the 16th Days of Croatian Film and special mention at the first Croatian Religious film festival in Trsat, Rijeka and the Magnificat in Belarus.
The High Cybercafe: Internet in the Nepal Himalayas
Year of release: 2012
Duration: 28 min
Director: Tanel Saimre
Original Language: English, Nepali
Country of production: Norway
Shooting location: Nepal
Distributor:

Tanel Saimre


tanel.saimre@gmail.com



Description
Internet and telecommunications have penetrated the world to a degree of not even being amazing any longer. We take the ability to connect to people and machines on the other side of the planet for granted. How does this technology adapt to a mountain village in Nepal, and how does the mountain village adapt itself to it? "The High Cybercafe" depicts the life of two young Nepalis working in a cybercafe in Namche Bazaar, on the trail to Mount Everest. We see their working day and take a side trip to the computer lesson at the local elementary school. We witness the change as it happens.
Director info
Tanel Saimre (35) is an Estonian researcher trained in Archaeology (MA from Tartu University, Estonia) and Visual Anthropology (M Phil, Tromsø University, Norway). He is interested in the material culture, especially that of the technological aspect of human existence. He has worked on positions relating to archaeology, filmmaking, software development and many others.
When Spirits Ride Their Horses
Year of release: 2012
Duration: 28 min
Director: Itsushi Kawase
Original Language: Amharic
Country of production: Japan
Shooting location: Gondar, Ethiopia
Distributor:

Itsushi Kawase


kawaseon@gmail.com



Description
Zar is the possession cult widely spread in the East Africa and the Middle East. In Gondar, Ethiopia, the possessed body of the Zar spirit medium is referred to as 'the horse of Zar'. In this rhetoric, spirit possession can be understood as the spirit riding the body of the medium. The ceremonial space has to be "warmed up" by the dance, music and various kinds of smells to awaken spirits' power. Spirit possession takes on almost sensuous overtones. The film portrays one lady who devotes her life to Zar spirits and explore the sensory quality of the interaction between her and various spirits including Seyfou Tchengar, who is said to be one of the most powerful spirits in the region.
Director info
Dr. Itsushi Kwase is a filmmaker, anthropologist and Buddhist monk born in Gifu, Japan. In 2001, he initiated the long-term anthropological research on hereditary singers known as Azmari and Lalibala in northern Ethiopia under the Graduate School of Asian and African Area Studies, Kyoto University where he did his MA and PhD. He has produced several documentary films (www.itsushikawase.com), including 'When
Spirits Ride Their Horses'(2012), the award-winning 'Room 11, Ethiopia Hotel' (2007) and published articles on the social roles and performances of these singers in transition. He has also investigated the prospects and challenges of imparting anthropological knowledge by actively communicating on-screen, and occasionally, debating with people through his films. From 2010 to 2012, he has spent 2 years at Granada Centre for Visual Anthropology, the University of Manchester as a postdoctoral fellow. He was also involved in SoundImageCulture(SIC) in Brussels as a coach in 2011. He is currently the assistant professor of Visual Anthropology at the National Museum of Ethnology, Japan and a board member of the Commission on Visual Anthropology (IUAES).

Website: www.itsushikawase.com
Winter Light
Year of release: 2011
Duration: 25 min
Director: Skule Eriksen
Original Language: Norwegian
Country of production: Norway
Shooting location: Lofoten
Description
Winter Light is a film from the islands of Lofoten, north of the Arctic Circle in Norway. After weeks of low autumn light, the sun sinks below the horizon and stays there during the depth of the winter. But the scarce light has its subtle beauty, as it falls on people's everyday life as well as the unique Arctic landscape. The film is poetic and rhythmic, and has very little dialogue.
Director info
Skule Eriksen has worked in films for 35 years. He has made documentaries and short films, and has also worked extensively as a film editor on feature films, commercials and documentaries. Many of his films are about nature, and people's relation to nature. In his last films, Fjord and Winter Light, he tries to challenge the way we portrait nature in films.

With Stars on Fingertips
Year of release: 2011
Duration: 52 min
Director: Giuseppe Carrieri
Original Language: Oriya
Country of production: Italy
Shooting location: India
Description
In the tribal land of the forest of Kuraput, India, there are areas where electricity is only now
beginning to light up thatched huts and mud roofs. The young react with enthusiasm and hope for the future. Beside them, however, the older members of the community remain faithful to the dark and leave the doors of their houses open in the evenings to let in the light of the moon and stars. They do not know what to do with modernity.

Director info
Giuseppe Carrieri was born in Naples, Italy on 28th April 1985. He loves to follow and paint that forgotten humanity who lives next to us. His first short movie "Dust" was shot in Kolkata (India) with no budget and won several prizes in international competitions.
"The Alphabet of the River" is his first Documentary. Dreams and ruins are the main texture of his movies.
Draught
Year of release: 2011
Duration: 100 min
Director: Everardo González
Original Language: Spanish
Country of production: Mexico
Shooting location: Mexico
Distributor: Ivan Gutierrez
Insurgentes Sur #674, 03100 Mexico City
difuinte@imcine.gob.mx

Description
Residents from the Ejido (communal land) Los Cuates de Australia in Northeast Mexico perform every year a massive exodus to look for water during drought. In this exile, men, women, elders, and children wait for the first drops of water to return to their lands, metaphor of a small town that hides from death.
Director info
Everardo González (1971) is born in México. He studied Social Communication at the Universidad Autónoma Metropolitana in México City, Cinematography at the Centro de Capacitación Cinematografica and Photography at the Escuela Activa de Fotografia. He has specialized in cinematography and documentary direction and has worked as Director of Photography for feature films, documentaries, short films and television in Mexico. His documentary Pulque Song received from the Mexican Academy of Cinematography theaward for the Best Mexican Documentary and a nomination for Best First feature Film.
Body memory
Year of release: 2011
Duration: 9 min
Director: Ülo Pikkov
Country of production: Estonia
Distributor: Eesti Nukufilm
Niine 11
10414, Tallinn ESTONIA
andrus.raudsalu@nukufilm.ee

Description
Our body remembers more than we imagine. It remembers the sorrow and pain of our predecessors. It keeps alive the stories of our parents and grandparents as well as their ancestors. How far back is it possible to go in your bodily memory?
Ten minute film dealing with deportation is one of the most successful recent Estonian animations, which has taken part in more than hundred festivals and won 25 awards.
Memories Denied
Year of release: 2005
Duration: 52 min
Director: Imbi Paju
Country of production: Estonia, Finland
Distributor: Allfilm
allfilm@allfilm.ee

Description
This historical-psychological documentary tells the story of the director's mother and her twin sister in a totalitarian society under Stalinism, Soviet occupation and terror when repressing memories was the only method of self-defence. The film is an analysis of memory which goes through violent personal memories of the Second World War sixty years after Stalin's concentration camps and Soviet terror. In the documentary, the director depicts her mother's past and, at the same time, that of all Estonia. It is still hard to talk about the unresolved past which crosses generation lines. But this journey must be completed in order for the community to heal from the wounds of history.
Life Stories
Description
Animated documentary "Life Stories" is based on the real lives of real people. The film covers the time-period of the War of Independence to this day, although it is mainly focusing on difficult years during and after the Second Worldf War, when most tragic event for Estonians took place: occupation and deportation.
Seeming inconsistency between very coloured, even flippant and childish looks and often depressing content is intentional. That way it is easier to bear the tragic fates
Siberia has been my homeland, too
Year of release: 1990
Duration: 65 min
Director: Märt Müür
Description
Autobiographical retrospective from the year 1949 – mass deportation of Estonians. Author draws mainly on his life and personal experience, emotions and reminiscences. Relying on the contemporary understandings, he tries to create the groupageportrait of thousands of the deportees sent from Estonia to Siberia.
Timeless
Description
The events from the past tend to be forgotten. However, the deportations in June 1941, as the most brutal crimes of Russia, remain in the Estonian people's memory forever.
The film speaks of those who survived in Siberia and eventually came back home. Filmmaker Andres Sööt is one of those who came home.
Grandma and grandpa
Description
The documentary – animation is based on a life story of director's grandparents who were exiled to Siberia by Soviets in 1948. The severe period of Lithuanian history is being told in a personal way, in genre of a fairytale. The story teller is a little girl, who sees the events in her own child way. The visual basis of the film consists of extant family photographs together with the national archive material and animation inserts.