How to catch the invisible on camera? – A matinée with Mihály Hoppál, a noted shamanism researcher
March 21, 2012
Monday morning's sleepy blur not quite blinked from the eyes and the festival has not been officially opened yet. All the brave new worlds being promised to us by the festival film programme are just about to begin to unfold; nevertheless the seminar hall of the Estonian National Museum is full of people who are united by their eager curiosity for the otherworldly. And in this time precisely these other worlds one gets access to through the drums and power of a shaman. The realms of mysticism, healing, liberation … alas invisible.
This year the special programme of the Worldfilm festival is dedicated to shamanism, and Mihály, an esteemed researcher into shamanism (or, as Hoppál himself has redefined it, shamanhood), who has arrived in Tartu to share his ample experience. Hoppál has performed extensive fieldwork in Siberia and Korea as well as Manchuria in China; and in addition to his numerous publications, he has been making a series of shamanhood themed documentaries since as far back as the 1970s. Back in the day, he even mapped the spiritual core of the Finno-Ugric people together with Lennart Meri. The large number of enthusiasts gathered at the Estonian National Museum indicates that shamanhood is an inviting topic in contemporary Estonia (as well as elsewhere in the West). Whether deemed contentious or not, I have always considered the cosmic practises of my forefathers to be shamanistic. And what would be more popular and spread better in the country dubbed "the most atheist nation in the world" than shamanistic practices based on subjective experience and spiritual journeys. (Which, in essence, places a huge question mark on the whole subject of Estonian 'atheism').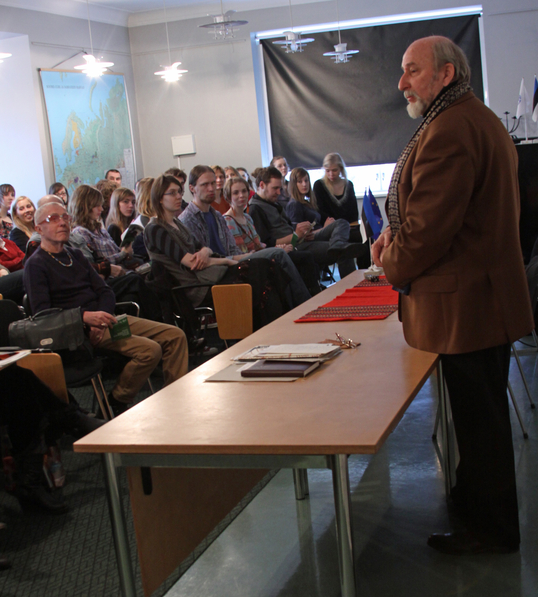 As shamanhood has various manifestations on the global scale it would be challenging to try to compare the shamans of the Amazon, Siberia or Melanesia. Mihály Hoppál mainly focuses on the shamanhood of the East. He produced visual documentation on these archaic techniques of ecstasy (to quote Mircea Eliade) out of necessity as there was none during the era in which he started his research. Hoppál is nevertheless convinced that the visual approach allows for more realistic ethnographic description than writing, which can often stray into fiction. He tells us flamboyantly about his visit to the museum of atheism in St. Petersburg, where the paraphernalia of shamanistic practices was hoarded during the Soviet era. All these great sacred outfits, the fierce descriptions of which he had previously read about in ethnographic writings, turned out to be drab, dirty and ragged in reality. This, as he put it, "horrible experience", allowed him to discover the discrepancy between written and visual documentation. As the old adage goes, one picture is worth a thousand words. Hoppál in turn claims that a bit of footage is worth more than a thousand photographs.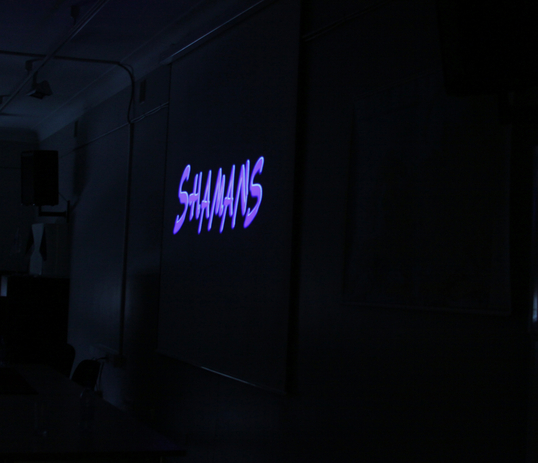 "As anthropologists, we are producing texts. However, these texts have to be become comprehensible, pleasing, and quite often they have to be commercial as well. That way they end up being 'polished texts'," he elaborated. Yet, when something has been caught on camera, then there is not that much leeway for 'lying'. Although a different set of limitations apply – a documentary in essence is a condensed film clip and is relatively shallow compared to the real experiences of the anthropologist. Even more, as when it comes to shamanhood, the visual side – whether the rituals, costumes, dances, masks, shrines, and drums – is just the surface. The central stage in shamanhood is held by trance – a spiritual journey between realms, an altered mental state, a catharsis. Because all of it is a very subjective experience, however hard one might try, it is impossible to be caught on camera. At this point, Hoppál assumes a position of a more discreet observer, and to my relevant question he responds: "Is it necessary to capture everything?"
Those who have opened gateways to other realms might well have a deeper understanding of the invisible that evades the camera.
Yet this remains the biggest trick when it comes to the majority of anthropological texts: how to describe the invisible?
Terje Toomistu