Saturday 27th March
10:00

Arrow of the Seventh Flame
Directors: Evgeni Alexandrov, Elena Danilko; release: 2009; length: 60 minutes
For centuries Finno-Ugric and Slavic peoples have been living in the land of Perm and Vyatka. What is the present for the descendants of these ancient cultures? How do they identify themselves – are they Permyaks or Russians? How do their mutual relations develope? What do they believe in? How to enter the world of a contemporary Russian village? How to hold the impressions one gets in multiple conversations and how to preserve the essence of this wonderful world?
Members of the expedition of Russian Academy of Sciences made their studies in 2005 in the Afanasyevo region of Kirov district, in Ilushi village and around. Dozens of hours of video and audio recordings not only allow researchers to return to passed times, but they may also become the foundation in describing it. Such an effort was made by the authors of the film.
Evgeni Alexandrov
Leading research assistant, Doctor of Fine Arts and head of laboratory for the Center of New Information Technologies at M. V. Lomonosov Moscow State University. Also head of the public Center of Visual Anthropology of Moscow State University. Evgeny has about 80 publications on visual anthropology, including the monograph "Discussions of theoretical and methodological problems of visual anthropology". He is editor of six article collections on visual anthropology, the producer of video works for CVA MSU (1989–2009), and creator and director of the Moscow International Festival for Visual Anthropology, Mediating the Camera (2002–2010).
Elena Danilko
Doctor of History, leading research assistant at the Institute of Ethnology and Antropology Russian Academy of Science; executive director, Association of Ethnographers and Anthropologists of Russia. Among her recent publications is the monograph entitled Old Believers in the Southern Urals: Essays About the History and Traditional Culture (Ufa, 2002). She is the executive director of Mediating the Camera, the Moscow International Festival for Visual Anthropology.
11:30
The Bagyeli Pygmies at the Fringes of the World
Director: Francios-Philippe Gallois; release: 2009; length: 87 minutes
"Before, we were poor but we didn't know it because we lived contentedly in the forest..." Discovering the outside world, the Bagyéli Pygmies have seen that they are very poor. Their hunting culture allowed them to live in the jungle of south Cameroon for thousands of years, but outside they were considered animals or slaves by a society dominated by farmers. And when the Exxon pipeline arrived in the Pygmie's forest aided by the World Bank, our industrial and bureaucratic society is worse than the farmers. Angeline, Marcelline and Pascal are 3 attractive Pygmies who have discovered cars, solid houses and money, and strongly resent the fact that they don't have the right to that. Following their personal dreams of integration, they encounter the complexities of change that the real world imposes on hunter-gatherers. And through their point of view, the film tell us of a universal story about a small population that doesn't want to disappear.
Francios-Philippe Gallois
François-Philippe Gallois was born in France in 1960. After studying French literature he began to work in the video business as a cameraman and then as an editor. In 2004, he directed his first documentary Arabian Horse, Living Sculpture, the contrasting portraits of a sculptor and a breeder. In 2005, he heard about a confrontation between a pipeline and a group of Pygmies. Over the next 3 years, he spent 7 months with the Pygmies filming the agony of the world of the forest. Following this film, he became an active member of Fondaf, the NGO that helps the Bagyeli Pygmies integrate into African society without losing all of their identity.
14:00
Mawla's Weddling
Director: Zoltan Enevold; release: 2009; length: 50 minutes

Mawla, a young man from Bangladesh living in Madrid (Spain), dreams of having a family. After seven years he decides to go back to his country in order to find a bride and get married.
Zoltan Enevold
Zoltan has a BA in Advertising and Public Relations from the Complutense University (Madrid, Spain) and a degree in Comparative English Literature from the Complutense University. He has worked as a graphic designer, photographer, camera operator and video editor. Mawla's Wedding is his first documentary. He has just finished Mongol Rally and he is working on his next documentary.
16:00
Maurus, Nadia, Flurina
Director: Ivo Zen; release: 2009; length: 59 minutes
Every year at the end of summer, scores of adolescents move from their remote valleys in the Grison Alps to the city of Chur. At the age of fifteen they leave their homes and families to attend the cantonal secondary school. The film portrays three teens during their first year of longed-for independance. The hopes and delights, fears and disappointements of coming-of-age.
"Dear diary, I am finally living here at the Konvict. At first, I was quite nervous, but not anymore, now I am calm. I had two big questions when I arrived here: What kind of people actually live here? Who will be my roommate and what is he like? The only thing I know about him is his name. Today I will try answering these questions. All kinds of people live at the Konvikt. I'll surely make a friend, but maybe also an enemy. Sandro seems nice, but so far he doesn't talk much. That will surely change and I think we'll get along well." (Excerpt of Maurus Derung's diary.)

Ivo Zen
Ivo Zen attended school in Chur, Switzerland before studying architecture in Zürich, Germany. He went on to take a diploma at the Film departement of Ecole Supérieure des Beaux Arts Genève (ESBA Genève) and then set up the independent Film production unit Alva FILM. Since then he has become a member of the ARF/FDS, Swiss Filmmakers Association, and co-founded Cineasts Rumantschs, a group of authors commited to Rhaeto-Romansh film creation.



17:30
Route 206
Director: Catarina Alves Costa; release 2009; length: 22 minutes
Textile factory. National Highway 206. North of Portugal, in the Ave River Valley. The film shows an 80 years old textile factory. With 1200 workers, the factory exports 80% of its production to Germany, the EU and Japan producing high quality textile for Armani and Hugo Boss. The everyday life and routine of a factory that never shuts down, day or night, and those who work in there. Inside its corridors and enormous machines, we follow the workers daily lives as they talk about different professional and other experiences.
Catarina Alves Costa
Filmmaker and anthropologist Catarina Alves Costa was born at 1967. She has a BA in social anthropology from the University of Lisbon (1990) and an MA in visual anthropology (Granada Centre, University of Manchester, 1992). Since 1997 she has worked as a teacher in visual anthropology and documentary film in Lisbon. She is also co-founder of the production company Laranja Azul, where she works as a producer and director of creative documentaries. From 1995 to 2000 she worked in the Film Archives of the National Ethnological Museum doing research and production of documentary films for exhibitions (mostly about Africa and Timor).


High Rise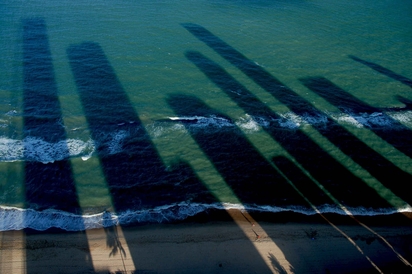 Director: Gabriel Mascard; release: 2009; length: 75 minutes
Link to trailer
High Rise presents an analysis of the dominant Brazilian classes through a dialogue with the inhabitants of eight penthouse apartments in Rio de Janeiro, Sao Paulo and Recife. During the film, penthouse residents open up their homes to reveal their thoughts on social inequality, politics, and the world that surrounds them, as well as discussing more intimate subjects such as their desires, dreams, conflicts, insecurities, prejudices and personal histories. Through these dialogues and a poetic visual and sound narrative, the film explores the social and cultural mindset of the elite, and the phenomenon of the 'verticalisation' of the Brazilian cityscape. High Rise is a film about height, status and power and provides an opportunity to question and challenge the elite in a way that has never been done before in Brazilian cinema.
Gabriel Mascard
Gabriel Mascaro graduated in Social Communications from the Federal University of Pernambuco, Recife, Brazil. He began his career working with video art and new media and has worked as assistant to big Brazilian film names such as Marcelo Gomes (Cinema, Aspirins and Vultures - Cannes 2005) and Cláudio Assis (Bog of Beast – Tiger Award, Rotterdam 2007). In 2008, Gabriel launched his first documentary feature film The Beetle KFZ-1348. High Rise is Gabriel's second feature film. Alongside the film's launch Gabriel is finalizing his third feature film Charming Brasilia Avenue.



20:00
Constantin and Elena
Director: Andrei Dascalescu; release: 2008; length: 102 minutes
In a Romanian village, an elderly couple has been happily married for almost 55 years. Constantin and Elena know that life must end, but are happy with everything that they've had. They fill their days with chores in and around the house, going to church and receiving welcome visitors, not to mention a catnap every now and then. Everything that these two old lovebirds do goes slowly: from helping each other get dressed and climb ladders to weaving Elena's beautiful tapestries. Often they sing old Romanian songs at the tops of their voices, or Constantin's old battle songs from his army days. A cinematic, observational, sometimes voyeuristic look at a way of life and at two lives, both almost extinct.
Andrei Dascalescu
Andrei started as a radio DJ in his hometown during his teenage years. He then moved to Bucharest to study sound and editing at the Film University. At the same time he worked as a freelance editor and sound engineer for BBC Romania, and on many films including Francis Ford Coppola's Youth Without Youth, as assistant to the legendary editor Walter Murch. He produced and directed the award-winning short feature Fly, then made his documentary debut with Constantin and Elena.