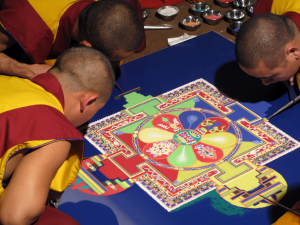 Tibetan program at Worldfilm 2009

This year, together with Estonian-Tibetan Cultural Society and Estonian National Museum the WorldFilm festival is hosting a delegation of eight Tibetan Buddhist monks from Lhodak Gaden Dhonnyiling monastery in exile in India on their Tibetan Cultural Heritage Tour to Europe. In addition to the construction of sand mandala and ritual dances performed by the monks, the Tibetan progam also includes the screening of a recent documentary about Tibetan refugee children by a young Estonian director Leeni Linna - "Messenger" (2009).
On 24-28 March the Tibetan monks will be constructing the Medicine Buddha sand mandala and make traditional Tibetan butter sculptures, as well as giving lectures and teachings at the Estonian National Museum.
On 25 March they will perform Tibetan ritual dances at the Harbor Theatre. The program culminates on 29 March with tantric chant and ritual. Finally the sand mandala will be swept up and poured with blessings to the River Emajõgi.
The visit of Lhodak Gaden Dhonnyiling monks to Estonia is a part of their extensive tour to Europe passing through Lithuania, Latvia, Estonia, Poland, Slovakia, Austria, and Slovenia. The aim of the tour is to raise funds for maintaining the traditions of the monastery in exile and for reviving the original monastery in Tibet which has remained in ruins since 1959.
A mandala is an elaborate diagram which depicts the universe from a purified and enlightened point of view. On the throne in the central palace of the mandala is seated an awakened being, a Buddha - Medicine Buddha in this case. Medicine Buddha (Tib. sangs rgyas sman bla) is the manifestation of the healing powers of all enlightened beings. Being not only able to cure the "outer" maladies and sickness, he also helps to overcome the "inner" diseases like hate, desire, and ignorance, thus ultimately leading to complete awakening and liberation. A contact with Medicine Buddha, uttering his mantras and performing the respective practices bestows positive health effect, and increases the healing powers of the practitioner as well. A sand mandala is constructed by sprinkling colorful natural powders with extreme precision. It takes several days to complete the whole. Dissipating the mandala afterwards symbolizes the impermanence of all mundane things.
The sacred ritual dances of Tibet derive from esoteric Vajrayana Buddhism and embody spiritual purification, enlightenment, and power.
Traditionally the dances were performed at monasteries by monks (or
nuns) during certain religious festivals, while people from nearby villages gathered around to watch. The dancers wear big masks and elaborately decorated costumes, and are accompanied by the sound of drum, cymbals, and Tibetan horns. On a deeper level the ritual dances function as a form of meditation, while at the same time they serve as an offering to Buddhas and deities. Under the rule of People's Republic of China the performing of ritual dances along with various other Tibetan religious and cultural practices is often banned or restricted, thus the tradition is threatened by the danger of extinction.
Contact:
Laur Järv
53416324